1.5.2016
Coconut & Cherry Chocolates
Since these chocolates went down a storm at our Fasts Track to Fabulous Evenings, I decided to share the recipe with you, so, you too can make these healthy delicious treats. However, I cannot take all the glory as it was my  dear friend Belinda Blake, who introduced them to me. Thank you Belinda :) 

To Make 26 Truffles .....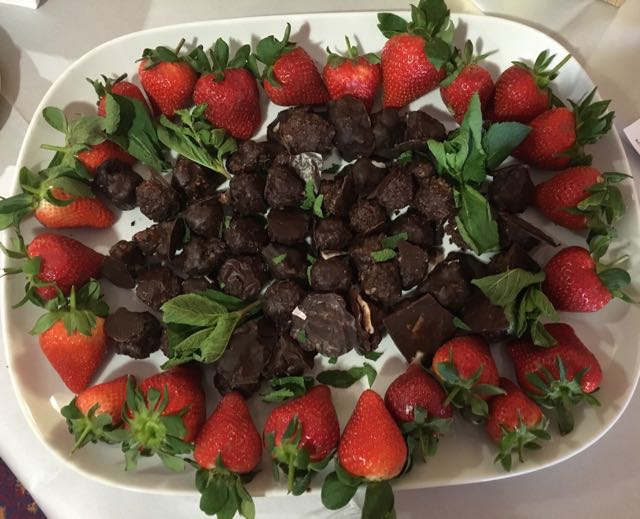 Ingredients
100g creamed coconut
75g desiccated coconut
3tbs coconut oil
3tbs sour cherry juice concentrate
1 ½ tbs coconut nectar or sweet freedom
1tsp vanilla extract
Pinch salt
100g dark chocolate
Method
Melt the coconut oil in a saucepan  then add the creamed coconut and allow to melt in the warm. Pour into a bowl.  Then add the desiccated coconut, Sweet Freedom, cherry juice, vanilla extract and salt – mix with a folk.
Cover the bowl and put into the fridge for 20 minutes to firm up.
Scoop out teaspoons of the mixture and roll into little balls.  Place these onto a baking tray. Cover the tray again and place in the freezer for at least
20-30 minutes to firm up again.
In the meantime…
Melt the dark chocolate in a bowl over a saucepan of barely-simmering water.
Remove the tray from the freezer, then dip each coconut ball in the melted chocolate to coat, then replace on the baking tray (the cold tray will help set the chocolate quickly).
Stored in an airtight container in the fridge or the freezer. Ideally allow to come just up to room temperature before enjoying!
---
ADD YOUR COMMENT
SEND
---
COMMENTS
...
Saving...