17.2.2015
Happy Pancake Day!
Try this delicious gluten and dairy free pancake recipe for Pancake Day!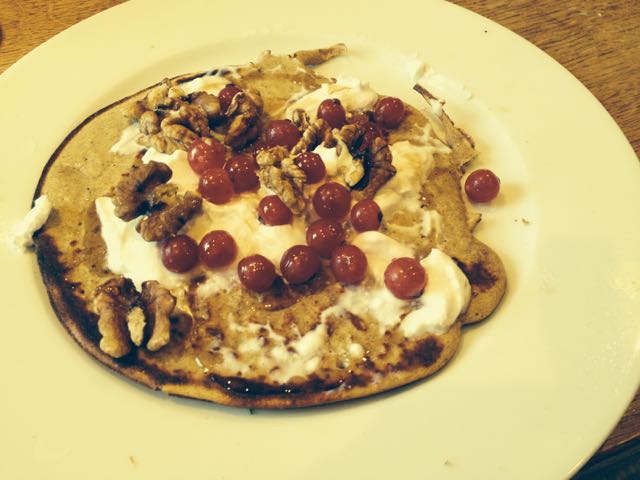 Ingredients;
1tbsp melted coconut butter
6 Eggs
1 tbsp agave or maple syrup
2 tsp vanilla extract
½ tsp bicarbonate of soda
1 tsp baking powder
3 tbsp coconut flour
1 tsp of cinnamon
Method
In a blender, mix the coconut butter, eggs, maple syrup and vanilla extract until smooth. Add the rest of the ingredients and blend it all together. Let it sit for 5 mins.
Heat a non-stick frying pan and pour in 2 tablespoons of batter (quantity depends on the size you desire) and let it cook for 1 -2 mins on each side.
Serve with berries or a grated apple with coconut milk yoghurt or plain yoghurt and a few walnuts! If it is not sweet enough for your palate, a drizzle of agave syrup could be added. 
Coconut flour is low glycemic, which mean it does not spike your blood sugar levels so rapidly, making it useful for everyone including #diabetics and those on #weight loss programmes. It is also high in fibre, which is good news for the digestive system and it is also #gluten free so #coeliacs do not have to go without pancakes.
Cinnamon is also one my favourite spices, which you will soon read about on my herb and spice blog.
For savoury pancakes - I love 'socca', made from chickpea flour. Ottolenghi makes a wonderful version, which I add griddled halloumi cheese to - see this link http://www.theguardian.com/lifeandstyle/2008/oct/04/vegetarian.freefrom
Happy Pancake Day! 
---
ADD YOUR COMMENT
SEND
---
COMMENTS
...
Saving...