1.8.2014
My Cod with Chorizo and Lentils Supper!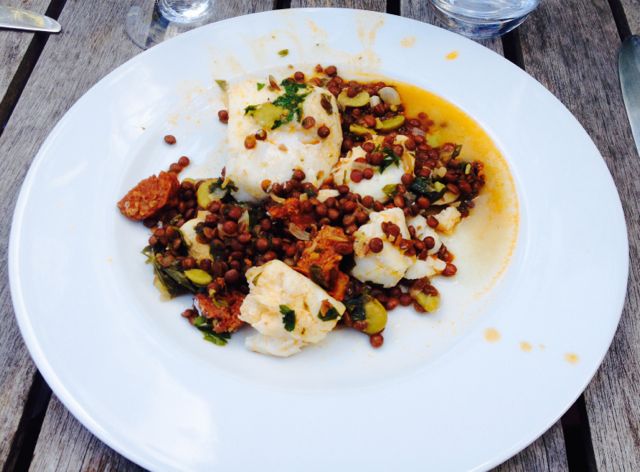 Today, I want to share with you a recipe that I cooked last night for friends.
I had spent the day travelling so I was looking for something that was effortless to prepare and flavoursome. Flicking through an Olive Magazine on the plane, I came across  this recipe. It ticked all the boxes and looked really easy, so I decided to give it a go.  It was such a success that I wanted to share it with you! 
Lentil with chorizo and cod (this recipe serves 2) 
 
Ingredients:
1 onion – finely chopped
2 small chorizo – chopped
400g tin of lentils
400ml of water
1-2 tbsp of sherry  vinegar
Small bunch of parsley – chopped
100gms of tinned broad beans
2 Cod fillets – skinless
Method:
Place onions and chorizo in a cold pan and slowly bring it to a high heat so the fat in the chorizo cooks the onion. After 2 mins, add the lentils. Season with black pepper.  Add the water and simmer for 20mins  (add more if drying out).
Stir in the vinegar, most of the parsley and the broad beans. Simmer for 5 mins.
Place the cod on top, season with pepper and place the lid on the pan for a few mins until the fish is cooked. 
 
Drizzle with olive oil and scatter the remaining parsley.
This is a perfect combination of a healthy balanced diet; protein, fibre and complex carbohydrates, full of vitamins and minerals and very flavoursome.


---
ADD YOUR COMMENT
SEND
---
COMMENTS
...
Saving...