3.1.2013
Naturally High has fun in the kitchen!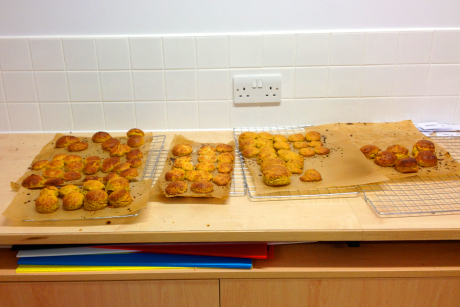 A Snack from the cupboard or a plate of vegetables? Why not combine the two?
Last week I helped Caterpillar's Kitchen (belinda@schoolsfoodcoach.com) to teach 6/7 year old girls and boys to make healthy scones with a secret ingredient!
That secret ingredient was butternut squash! The kids poured this wonderful orange vegetable puree into a bowl and mixed it into all the other ingredients to make a very gooey, squashy mixture. This was the highlight – sticky fingers galore!
The children loved it and they all went home very proud of themselves carrying their treasure of cheese and butternut squash scones.
I loved these cooking classes, they are proactive, fun and the children learn about the benefits of vegetables in a yummy way.

They all took home a healthy snack with a vegetable that they put in themselves!
---
ADD YOUR COMMENT
SEND
---
COMMENTS
...
Saving...