19.11.2014
Roasted Butternut Squash and Beetroot Recipe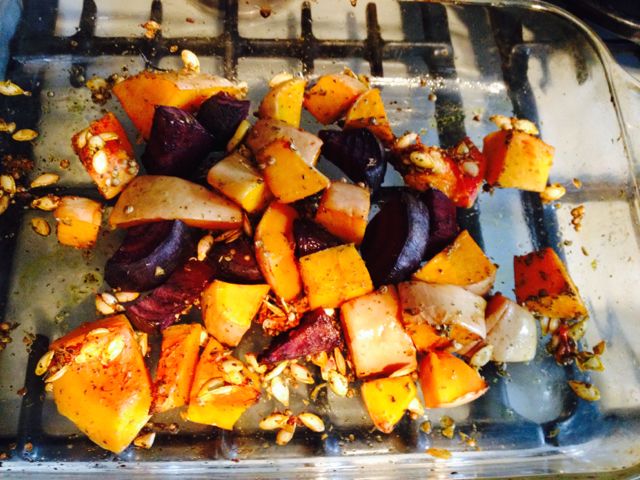 Ingredients;
1 butternut squash – washed and chopped into chunks (with skin on).
2-3 beetroots – washed and chopped into chunks.
2 tsp coriander seeds
2 tsp dried oregano
½ tsp fennel seeds
2 small chillies (optional)
1 garlic clove - crushed
pinch of salt and pepper
1tbsp olive oil.
Method;
Place the squash and beetroot into a baking dish.
In a pestle and mortar pound all the herbs into course powder. Add in the crushed garlic and mix with the olive oil.  Pour the mixture into the baking dish and mix it in with the veg. 
Bake it in the oven 200 C/400 F for about 30 mins.
This side dish goes well with meats and fish or you can just sprinkle goats cheese on it to keep it vegetarian.
Nutritional Benefits;
Squash – lovely orange colour gives us both a good source of vitamin A, important for immune defense against colds in the winter and a variety of antioxidants. It is rich in the B vitamins needed for energy production and to keep you warm in the cold months ahead.  Its minerals include zinc, iron, calcium potassium and phosphate for electrolyte balance, bone health and healthy skin to name just a few. 
I never throw away the seeds as they are packed with goodness including mono-unsaturated fatty acids for a healthy heart, rich in protein, including the amino acid tryptophan which promotes a good mood and relaxed sleep.  
Beetroot is a wonder food! It is great for liver support and detoxification as well as lowering  'bad' cholesterol and raising 'good' cholesterol.  The rich red colour shows off its natural source of antioxidants to protect us from the free radicles bombarding our bodies every day.
Again, never throw away the beet tops or leaves, they are also packed with iron, beta carotene and plant nitrates important for vasodilation. In other words, it helps to reduce inflammation in the cardiovascular (CV) system.
Garlic is also important for CV health. It helps to prevent the hardening of the arteries and  to lower 'bad' cholesterol. Thanks to its allicin compound, it is also an important detoxifying agent .  It is known as anti-bacterial, anti-fungal and has anti- cancer properties too. 
---
ADD YOUR COMMENT
SEND
---
COMMENTS
...
Saving...