16.8.2014
Salmon with avocado and olives and a rich mixture of herby, leafy salad.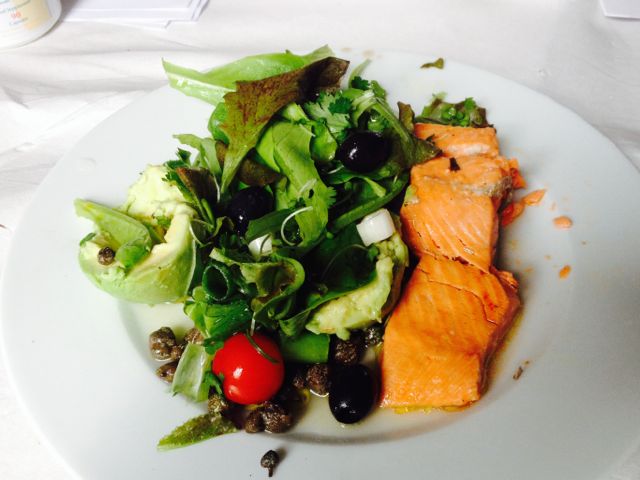 Salmon, avocados and olives are all a great source of healthy fats.  In other words, they have anti-inflammatory properties, making this meal ideal for anyone suffering from inflammatory conditions such as arthritis, eczema and asthma.
Fats are essential for brain function, nerve signaling and healthy skin. Because they are broken down slowly, you are left feeling fuller for longer, making this a dish that can be enjoyed by everyone but especially practical for diabetics.
These 3 tasty ingredients also contain protein, essential for reducing sugar cravings, controlling mood swings and helping the body recuperate and repair.
In addition, avocados are rich in   potassium, antioxidants and beta-sitosterol, a substance that has shown to be protective against cardiovascular disease, prostrate cancer and cataracts.  
By adding the lovely green leaves, it compliments the salmon, cleanses the palate and adds fibre needed for a healthy digestive system.
Ingredients;
2 Wild Alaskan Salmon fillets
Juice of 1 lemon
1 Avocado
2 handfuls of lettuce
2 handfuls of watercress
1 handful of coriander
1 handful of black olives
2 spring onions chopped
Cherry tomatoes 
Tbsp of capers
Olive oil
Apple cider vinegar
Method;
Pour the lemon juice in a frying pan with a drop of water. Place the salmon on top and cook slowly with the lid on  (to steam it) for about 5 mins – until it is tenderly cooked.
Wash the green leaves, tomatoes and spring onions. Mix in the rest of the ingredients.
Place the salmon on the plate with the salad and dress with olive oil and apple cider vinegar.
---
ADD YOUR COMMENT
SEND
---
COMMENTS
...
Saving...