9.6.2015
The wonders of watercress
Vegetable of the Month - Watercress
Making an appearance this time of year is a wonderful, peppery, leafy green called watercress. This plant, once revered by the ancient Romans for its medicinal powers, was fed to their soldiers to fight against diseases such as scurvy, bronchitis and 'ill' blood. 
Today, watercress is making its comeback not only because of its rich variety of nutrients but also thanks to its delicious fresh flavour and versatility in the kitchen.
Here's a wonderful summer recipe that is perfect as a light lunch but is also delicious as an accompaniment to roasted meats. The fresh, peppery flavours of the watercress contrast with the sweet, zesty juice of the oranges. Together, they cleanse the palate and help digestion as well as add a splash of summer colour to the table.
SUMMER WATERCRESS SALAD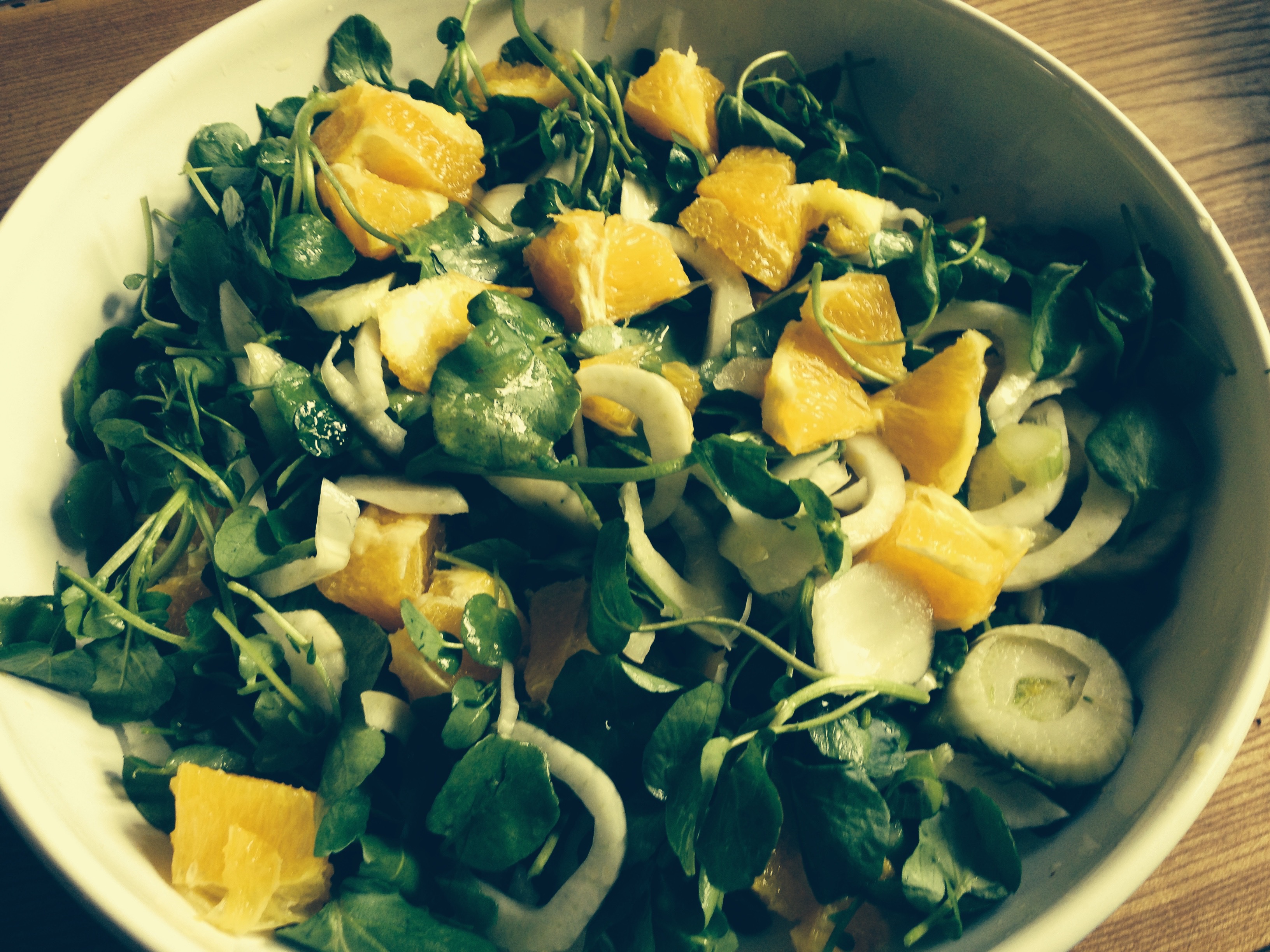 Ingredients - serves 4 as a side dish
4 Oranges – skinned and cut into segments.
6 spring onions – finely chopped
110 g of watercress
1 small fennel  - finely sliced
1 handful of flakes almonds
Method
Place the orange segments and any juice into a bowl. Mix in the rest of the ingredients with the oranges with the exception of the almonds. Dress with olive oil and cider vinegar. Season if required.
Dry fry the almonds and sprinkle onto the salad just before serving.
Fact Box;
With only 12 calories in a 110g bag of watercress, there are plenty of reasons why watercress should be at the top of your shopping list. 
So lets find out some of the secrets of watercress…
4thC BC Hippocrates, the father of Greek medicine, fed watercress to his patients as a natural medicine. This theme continued up until 1930 in the UK, when watercress was used in school lunches to promote healthy growth.
Gram for gram it has more vitamin C than oranges. It's no wonder Captain Cook used it to ward off scurvy while circumnavigating the world!
Watercress contains 15 essential vitamins and minerals including vitamins A, C and K as well as calcium, manganese and phosphate.  These nutrients help us achieve glowing skin, strong bones, healthy eyes and an optimum immune system.  Perfect for all the family.
Love sport? Love watercress!  Thanks partly to it's source of dietary nitrate, it is believed to reduce both blood pressure. In addition, it is a source of several of the B vitamins, which are needed for energy production and enhancing performance!  After exercising, magnesium helps relax the muscles – Mother Nature thinks of everything!
The zesty, peppery flavour is released when chewed. This helps digestion and detoxification making it an even more perfect partner with meat and fish.
Like all plants, watercress has its fair share of antioxidants such as lutein, zeaxanthin and alpha-lipoic acid.  It's great for protecting us against free radicles and turning glucose into energy! It's an ideal side dish for diabetics.
Also try….
The versatility of watercress is one of its wonders. It can be eaten hot or cold, raw or cooked so why not….
Start the day, for you and your family, with a boost of nutrients by throwing a handful into an omelet or scrambled eggs?
Make the perfect match with watercress sandwiches with smoked salmon, lemon and mayonnaise.
Beat it up to make a pesto to add to pasta.
Warm it up to make a soup.
Whizz it up into a smoothie or a juice.
Sauté the leaves with garlic and oil in a pan as a garnish.
Spice up a simple salad by adding it to mixed leaves.
The list is endless… .
---
ADD YOUR COMMENT
SEND
---
COMMENTS
...
Saving...